Contact Lenses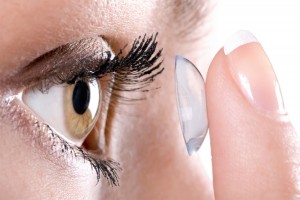 If you're looking for a more practical solution when playing sports or are simply wanting to change your look, contact lenses could be perfect for you. We will help you get the most out of your new lenses and will advise you on the best way to look after the lenses in order to keep your eyes healthy and comfortable. During your first contact lens consultation will help you choose the best most suitable lenses to suit you and your everyday needs. Our contact lens fitting service will put even the most nervous patients at ease. We stock all types of contact lenses from monthly to daily lenses.
Options include:
Daily Disposables
These soft lenses are exactly as the name suggests. You wear them once then dispose of them and so are extremely convenient, comfortable and one of the healthiest options. They are also ideally suited to people who only want to wear contact lenses occasionally such as sports, social occasions or for people who don't want the hassle of cleaning and maintaining their lenses.
Frequent Replaceable Disposables

For those who would like to reduce the cost of lens wear this option may be more suitable. Some lenses last one month and others just two weeks. All of these lenses require a regular but simple cleaning process that we will show you how to perform in a contact lens tutorial.
Annual Replacement Soft Lenses
Annual replacement soft lenses can be tailor made to correct your prescription accurately and normally last for one year. The cleaning process and wearing schedule is very similar to the frequent replacement disposable lenses, but there is a slight increase in the risk of wearing this lens type.
Multifocal lenses
Multifocal lenses are the contact lens equivalent of varifocal glasses. These contact lenses provide clear vision at near and far distances. They are available as daily, frequent replacement or annual replacement lenses.
Toric Lenses
Toric lenses are specifically for people with astigmatism. These lenses are available as daily, monthly or annual replacement lenses.
Gas permeable lenses
Gas permeable lenses are made from special plastics that allow air to pass through microscopic spaces. They are tougher and slightly smaller than soft lenses, they can be worn for longer hours and are designed for frequent daily use. These lenses are available as six monthly or annual replacements.
Watch this video and learn how to put in and take out your contact lenses.